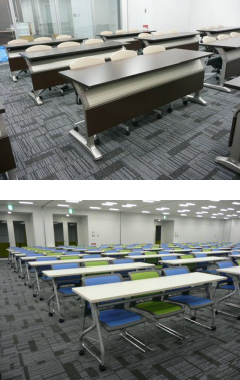 YAMADA INDUSTRY CO.,LTD. , has been continuing to cement our unshakable status in our office furniture production.
Our a lot of original products with high qualities and functions have been manufactured in our systemized factories equipped with recent facilities.
Also, we are continuing our innovation all the way for giving our
impression, appreciation and passion to our customer through our products responding to ever-increasing customer needs. One of them is our environmental protection management.
We are developing our products so as to minimize their environmental loads at each stage of the production, use and waste of our products even in any new product development and in our debating activities for environmental loads in our factories of production sites.
While anticipating our highly aged society in the future, we are now concentrating our effort on our furniture production in the facilities for highly aged persons and their welfare by use of our Know-How cultivated in the office furniture production.
We will still provide you with our solid products as one of the farther ever-developing makers in the future.


-Manufacturing and sales of office furniture
-Manufacturing and sales of office appliances
-Manufacturing and sales of interior furniture
-Manufacturing and sales of exterior-related products
We manufacture our original equipment products without any own trademarks for large makers possessing their trademark or business companies while adopting the consumer-side merits on basis of our specific proposals and development for prospective customer and then systematically deliver our products to them directly anywhere throughout Japan independent of their ordered amounts.

| | |
| --- | --- |
| Aug 1954 : | Start-up at personal level |
| May 1966 : | Factory founded at Hirata-cho in Gifu prefecture (Current Gifu factory) |
| Dec 1969 : | Yamada Industry Co.,Ltd. founded |
| Mar 1976 : | Daisen Co.,Ltd. founded (Relative company) |
| Nov 1980 : | Production factory completion for Sekigahara Tables |
| Jun 1984 : | TOA Co.,Ltd. founded (Relative company) |
| Jul 1984 : | Hikone factory started to work (Toa Co.,Ltd.) |
| Dec 1984 : | Fujiwara factory completed in Mie prefecture |
| Feb 1985 : | Tokyo office founded |
| Aug 1989 : | Annual sales amount 10 billions archived |
| Nov 1990 : | Makino factory completed |
| Dec 1993 : | Wakasa Factory completed (Daisen Co.,Ltd.) |
| Jul 1996 : | Nagoya head office completed at Nagaya central area |
| Feb 1997 : | Indonesia factory completed (Incorporated in foreign locals) |
| Oct 1998 : | ISO 9001 certificate acquired at Sekigahara factory |
| Jun 2001 : | ISO 14001 certificate acquired at Sekigahara factory |
| Oct 2001 : | ISO 14001 certificate acquired at Makino factory (Toa Co.,Ltd.) |
| Dec 2001 : | ISO 14001 certificate acquired at Gifu, Fujiwara factory |
| Sep 2003 : | Build additional factory at Makino factory |
| Jan 2005 : | Build additional factory at Makino factory |
| Aug 2005 : | ISO 14001 certificate acquired at Hikone factory |
| Oct 2005 : | Yamada technical center completed |
| Sep 2006 : | Build additional factory at Hikone factory |